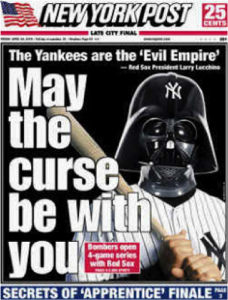 Every once in a while, a court issues a decision reminding us that we may have rights we've never known about or sought to assert. This time the Trademark Trial and Appeal Board (TTAB) has given the New York Yankees more than they initially sought to claim for themselves.
Last month, a panel of TTAB judges held that the New York Yankees could prevent Evil Enterprises, Inc. from using the phrase BASEBALLS EVIL EMPIRE on clothing because the public had, in fact, come to regard the New York Yankees as, the "evil empire" of Major League Baseball.
Remarkably, the Yankees (as well as Major League Baseball and the Baseball Commissioner whose legal action the Yankees joined) prevailed in their opposition to Evil Enterprises application for trademark registration even though the Yankees had never sought to use the phrase themselves in connection with any goods or services.
This is possible because "if the public has come to associate [a] term with [a] company or its goods or services," the company "may have a 'protectable property right in the term'." Big Blue Prods. Inc. v. Int'l Bus. Machines Corp., 19 USPQ2d 1072, 1074 (TTAB 1991).
In 2002, when the Yankees signed Jose Contreras for $32M, Larry Lucchino, President of the rival Red Sox, described the pinstriped club as an "evil empire extend[ing] its tentacles even into Latin America." According to the TTAB, the epithet stuck: "We have no doubt that EVIL EMPIRE, in the world of baseball at a minimum, has become famous in identifying the Yankees…." Consequently, Evil Enterprises' use of the moniker on its apparel would likely confuse consumers into believing that its products were associated with or endorsed by the Bronx Bombers. The conclusion, from a trademark perspective: "we find that [the Yankees] have a protectable trademark right in the term…as used in connection with baseball."
Greg Dunne, the lawyer who initially filed the trademark application for Evil back in 2008, and waged this long losing battle for the company, said his client may appeal: "We disagree with the opinion because we don't think 'Evil Empire' exclusively refers to the Yankees anymore. You've seen it used with the Phillies, the Rangers and other teams," he said. That observation won't win Evil Enterprises any trademark points or support its application for a registration, but it could undermine any particular team's or business' rights to claim exclusive use of the phrase in the sports or sporting apparel world. Not a point Evil Enterprises is likely to want to pay its attorney to advance, nor one the Yankees have sought to contest.
So, the Yankees have "won" this match, but they are up against the Jedi Sox for three games starting April 1.